See You In Toledo
We met the
The Faux Paus
some months ago in Elizabethtown PA. Later we saw them again at Elephant Talk. They kindly set up this show in Toledo for us. This was their home turf, so we figured that this show would be a breeze. We were really looking forward to this one.
We left our campground and hit the highway. Old people in RV's watched us pack up. It was weird.
We were in Toledo by early afternoon. Here, we made a discovery. As outsiders in Toledo, we were lost. What does one do in Toledo? Just driving around town wasn't yielding anything, so we posted up in a pizza place with free WiFi, and learned a little about the city. We found a record shop nearby and burned some time flipping through records and used CD's.
The Kinks – Live at the BBC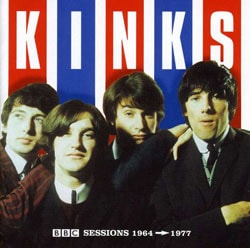 Queen – A Day At The Races
Link Wray –Rumble: Best Of
Frankie's Inner City
was the venue for the evening. It's a standard rock club on the east side of the river. When we were invited in, we got the sound sorted quickly and loaded in. The other bands began arriving right away. We were pleased to meet the members of
Drinking Mercury
and
Miracle Vitamins
. When the doors opened, the place filled up respectably.
Some friends of ours came out. Jeff Beach, Harry McDickerson, Greg Kolbeck, and new friend Leanne (spelling?). We had met these folks while playing in Bowling Green OH. They were kind enough to come and share the evening with us.
Drinking Mercury opened the night with some indie influenced, but good and loud rock. There was enough guitar noises to keep me happy for a while. We went up next and crushed our set. The crowd was in, and we sweated and shouted for them. I even threw my guitar, It was very rock and roll if I do say so myself. Though, I did check it over thoroughly after the set, so I can't claim too many rock points. Miracle Vitamins came up and did a set of introspective songwriter ballads with keyboard, guitar, and tight vocal harmonies. Then The Faux Paus mounted the stage and captivated the audience. We stood and chatted with our friends, joking about duck dicks and such. It was a fine night.
Afterwards we stepped out to a Denny's and calmed our bellies filled with PBR's. Over coffee and late night breakfast food we discussed furries and the Toledo music scene. Hannah and Amanda put us up and that was that. Next thing we knew, we were dozing off to the sound of a whirring fan and a purring cat.
Next… Canton OH, Brewed Roots, The Most beautiful losers, and true exhaustion.