Two shows in one day! Why quit now?
The sun baked us in our tent. 9 is the perfect time to rise on a sunny day. We rolled out of the tent, and Jessa turned up in moments. She walked us through the process, showed us where to unload, and contacted the groggy soundman. After dragging our instruments and amps up to the sleepy stage, we discovered a keg back stage. Nothing says "good morning" like a keg of leftover beer.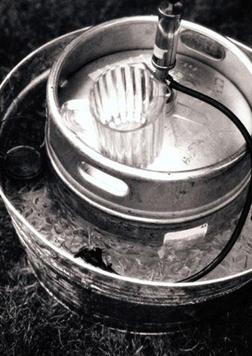 When we each had a beer, and were all set up, we played a full set at 10 am. It was a little weird to hear our own music in the light of day, but we played as hard as we could, and got a good response. Afterwards, we watched Bloodroots Barter do what we just did, a morning set, with some new found friends and a few more morning beers.
The Bloodroots invited us up for a few tunes while waiting for the next band to arrive. That was a bunch of fun. When the set was over, Blythe and I went in search of free food. Because of our tardiness, we found only bologna on tortillas with pickles and ketchup. It was enough to hit the highway. After goodbyes to Bloodroots Barter, and some of our new friends, we rode out of the mountains, and back toward Cincinnati.
For the whole ride up, we talked about where to stay for the night. Unfortunately, there weren't any free or cheap campgrounds in the area. We also didn't know anyone in the city who would put us up. We got a VERY cheap motel room outside of the Cincinnati metro area. Here we got a shower and a moment of repose before we jumped into another show.
A 30 minute drive brought us to Sitwell's coffee, which was our resident music spot for the night. We set up for an acoustic show, saying hello to Laura who runs the place, and saw us at Southgate a few nights before. We played. At first there was no reaction. Then strolled in Pete and Jay. They had seen us a year prior at Keith's Workshop. Now they were in front of us again, listening intently to a rather chill set of tunes.
During a break we learned that Pete is involved in a new project called
Shiny and the Spoon
. We played another set to Pete and Jay, as well as Amanda, who had also seen us at Southgate House. We then ate beautiful sandwiches while catching up with everyone.
We packed out, feeling good about our small, but awesome, show. In 30 minutes we were in our VERY cheap motel room, watching a $5 movie from Wal-Mart and snacking on the leftovers of our sandwiches from Sitwell's.
Tomorrow… Leaving Cincinnati, The Coffee Shop in Normal IL, and a beautiful campsite.